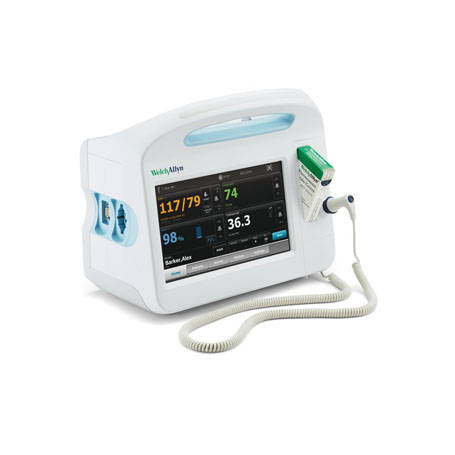 Welch Allyn Connex Vital Signs Monitor
The Connex® Vital Signs Monitor is an intuitive, touchscreen monitor featuring bright, vivid colors for improved workflows and training. Adaptable for most low-acuity healthcare environments and clinical workflows, it can measure pulse oximetry, non-invasive blood pressure (NIBP), temperature, EtCo2, respiration, heart activity and more. Multiple profiles support spot check vitals, averaging, intervals and continuous monitoring workflows. Help prevent patient deterioration using optional early warning scores. With wireless EMR connectivity, the Connex Vital Signs Monitor sends vital information where your clinicians need it, when they need it.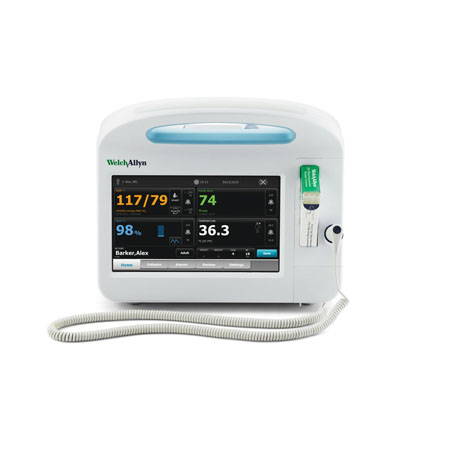 Features
SureBP® provides 15-second NIBP readings as the cuff inflates

SureTemp® Plus and/or Braun ThermoScan® PRO 6000 Ear Thermometry

Masimo® or Nellcor® Pulse Oximetry (SpO2) Algorithms

Optional 3- or 5-lead ECG bedside monitoring

Optional Covidien® Capnography (EtCO2)

Optional Masimo® Acoustic Respiratory Monitoring (RRa)

Optional Masimo® noninvasive continuous monitoring of total hemoglobin (SpHb)

Optional custom data inputs

Optional early warning score integration

Health o meter®, Seca and Detecto weight scale connectivity

Wireless connectivity to leading electronic medical records

Optional EarlySense® contact-free respiratory monitoring and motion sensing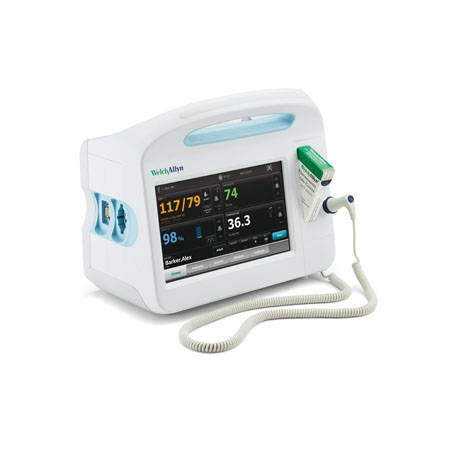 Why should you consider continuous respiratory monitoring?
The data on respiratory failure is alarming—especially for general care floors that are facing
increased patient acuity levels.*
Respiratory failure:
• Affects 17 out of every 1,000 patients
• Accounts for nearly $2 billion in excess costs
• Has the third-highest mortality rate of Patient Safety Indicators
As a result, many patient-safety organizations and The Joint Commission now recommend continuous
monitoring of oxygen and/or ventilation of patients receiving opioids postoperatively**
Current solutions, such as attaching an etCO2 monitoring device to an infusion pump may be unable to meet
respiratory monitoring requirements. For example, once the PCA pump use is discontinued, respiratory
monitoring will also be discontinued. Also,many patients require respiratory monitoring who are not on a
pump. Hospitals often realize that integrating respiratory monitoring into their current vital signs devices
makes the most sense—for efficiency, training, and the broadest use.